At the City Commission meeting held on Monday, July 11, 2022, our Mayor and City Commissioners approved the 2022-2023 Property Tax Rate. The millage rate for the City of Winter Springs, Florida for the Fiscal Year 2022-2023 is set at 2.4100 mills. The tax rate remained the same as the previous fiscal year.
However they also claimed they are saving us money, when actually since our property values have increased, the amount of taxes we will be paying will increase too. They city could have rolled back the mileage rate, something that is not done often, but they could have done that and really saved us money. If they had rolled back the rate, they really would have saved us money since the approved budget is 9.2% above the roll back rate.
The City of Winter Springs payroll has ballooned from $7M only a few short years ago, to $9M today. Our City Manager almost makes more money than our Governor. Our longest standing City Commissioner Cannon has kicked the can on our water systems, body cams and what else? It's time for change in City Hall.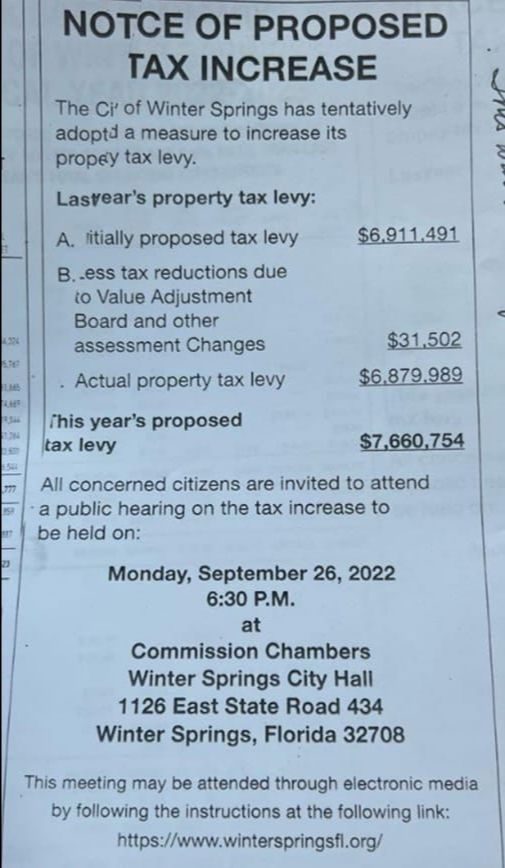 FACTS:
The City of Winter Springs has adopted a measure to increase its property tax levy from $6.8 million to $7.6 million for this upcoming year.

This represents a 10.5% increase of taxes over the prior year.

The tax increase was passed by the commission unanimously, with all commissioners voting in favor of increasing taxes.

This vote directly contradicts the tax-payer funded social media campaign in which the commission wrongfully claimed they are "Saving you money", when taxes are in fact being increased. (See tax increase notice Winter Springs placed in the Orlando Sentinel which was required by the State)
The City of Winter Springs has allocated $197,000 tax payer dollars for an election year marketing spree, which has included misinformation sites touting a science center which doesn't exist, and the video below which claims the tax burden on residents was decreased (i.e. "Saving you money") when the public notice above states taxes were in fact increased (i.e. "Notice of Proposed Tax Increase").