"Commissioner Victoria Colangelo shares her journey in bringing live video streaming of city meetings to Winter Springs, emphasizing the significance of transparency in governance."
It is with immense pride and gratitude that I share a recent accomplishment in our journey towards enhanced transparency: the inception of live video streaming for city meetings. This has been a passion project of mine, and seeing it come to fruition is truly heartwarming.
When I took office as your City Commissioner, one of my core commitments was to foster an environment of transparency, trust, and accessibility. I believe that every resident has a right to be privy to the decisions being made on their behalf, in real-time. With today's technology, there's no reason to hold back from providing this access.
Thankfully, the City of Winter Springs has heeded our collective call. With a proposed timeline of around 90 days to set up the necessary equipment, we're on track to offer an insider's view into the workings of our city's governance. In the interim, I'm pleased to share that you can continue to listen to the audio of meetings at winterspringsfl.org, and many of our meetings are also being generously video streamed by private citizens on the 'Live Now 32708' Facebook page.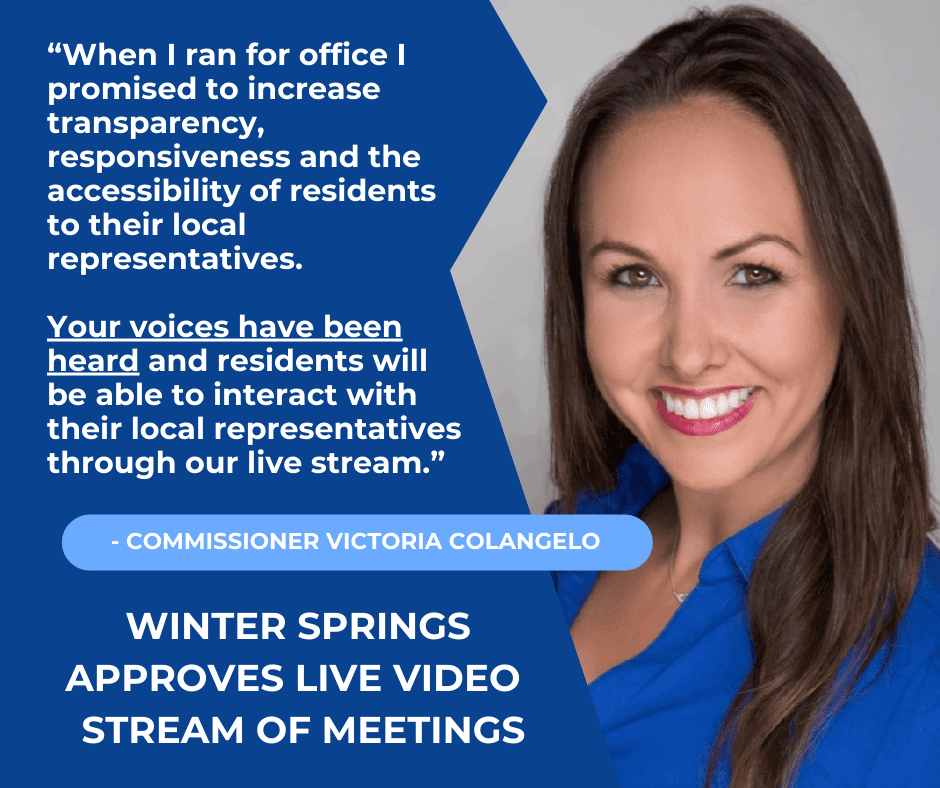 I can't help but think back to a time when the very notion of sharing personal financial data was seen as a challenge. Today, we're taking collective strides in ensuring that our elected officials, myself included, are open about our tax returns and business dealings. With the live streaming of city meetings, we're simply deepening this commitment to transparent governance.
However, I acknowledge that transparency isn't just about making information accessible; it's also about clarity and understanding. That's why I'm here for you, to answer questions, address concerns, and clarify any points of confusion.
It's always been my mission to ensure that you, the heart and soul of Winter Springs, are always in the know and that your voice resonates in every decision we make. The live streaming of city meetings is just one more step in that direction.
In conclusion, our beloved Winter Springs is evolving, adapting, and setting higher standards in governance, all while putting its community first. I'm honored to be part of this journey and look forward to sharing many more updates with you all.
Warm regards,
Victoria Colangelo
City Commissioner, Winter Springs District 2