Notice: Tuskawilla Self-Storage PD- Planning and Zoning Commission/LPA.
Consider a Rezone from M-1 (Industrial) and A-1
(Agriculture) to PD (Planned Development) for a proposed self-service storage facility on approximately 4.81 acres, located on Tuskawilla Road approximately 200 feet south of Michael
Blake Blvd.; (Z2022-20) (David Axel, Applicant)
May 3, 2023: 6:00 PM
Seminole County Board Chambers – Room 1028
1101 East First Street
Sanford, FL 32771
The purpose of this hearing is to receive public input and make recommendations to the Seminole County Board of County Commissioners on the proposed request that is assigned to the property described above.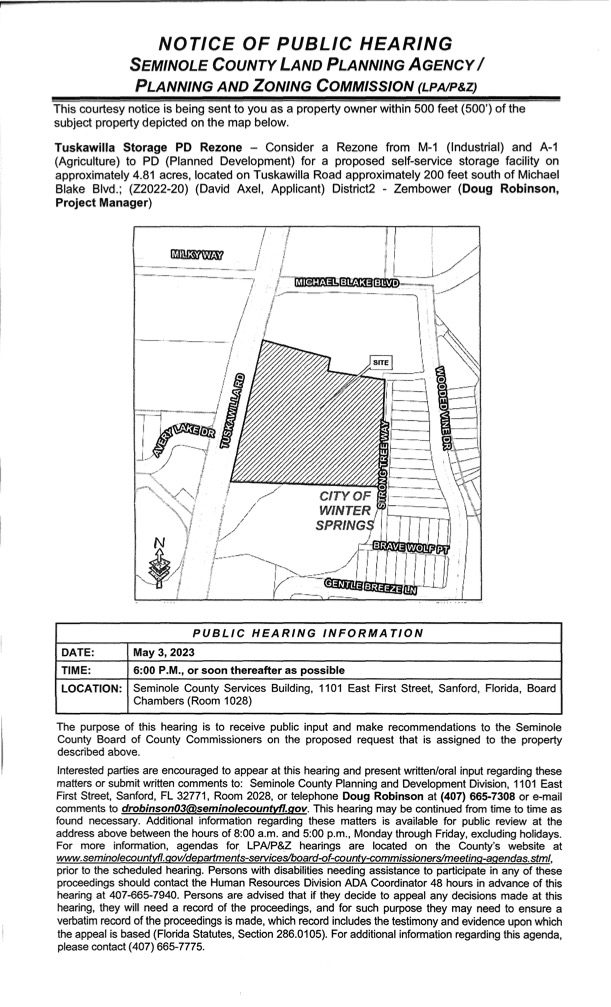 ---
Winter Springs Storage Development
March 14th Public Meeting Recap
Several frustrated homeowners attended last night's public meeting on the proposed Tuskawilla Self-Storage; despite the feeling of many neighbors that they "should have more influence over rezoning changes, the courts are reluctant to intervene."
Seminole County has mandated public hearings under the Zoning Procedures Law, and so neighbors have access into the public hearing process, but once a decision is made, the standard to challenge becomes much tougher.
There are substantive challenges available to neighbors who are dissatisfied with a zoning decision.
We need to find a legal reason why this project can not move forward, such as some of the following:
The location being pedestrian-oriented development with 3 public schools surrounding the property
Being a superfund/brownfield site
Evidence that the values of the homes will decrease and interfere with existing development
That the property is surrounded by other residential uses; and is inconsistent with surrounding uses
"As the Supreme Court stated in a seminal neighbor case Lindsey Creek Area Civic Assoc. v. Columbus, 249 Ga. 488, 292 S.E.2d 61 (1982), "It is important to keep in mind that the governing authority has approved the zoning change, thereby giving its permission to the landowner to use the property as the landowner desires. It is also important to keep in mind that we deal now with the right or power of neighbors to deny to the landowner the right to use the property as the landowner desires and as approved by the governing authority." 249 Ga. at 490."
This project will interference with others' property rights, diminution in the values of the neighbors' property (damages), substantial interest-aggrieved on the citizen with substantial evidence of harm, who will suffer damage to their property which derogates from their reasonable use and enjoyment. Evidence of harm could include: that a homeowners view from upstairs window will now be obstructed by a commercial building and now he can't enjoy the sunrise.
I understand "increased traffic, potential for storm water issues, crime threats, and generalized claims that home values will diminish. These sorts of general claims are typically rejected."
However, "In DeKalb County v. Wapensky, 253 Ga. 47, 315 S.E.2d 873 (1984), and in Brand v. Wilson, 252 Ga. 416, 314 S.E.2d 192 (1984), the Supreme Court concluded that evidence of a 15-20 percent decline in value of a neighbor's adjoining property was sufficient evidence upon which a trial court might find substantial damage to a substantial interest. As the court put it in Wapensky, homeowners who will "bear the brunt of the changed conditions" typically will have a substantial interest. Such persons are not casting themselves in the role of "champions of the community," if they have presented evidence of an interest of real worth and importance. Thus, the best way to have standing is to have directly adjacent neighbors who can present evidence of potential diminished value from an expert, in addition to other nuisances such as specific noise, odor, light pollution, etc."
In addition, this enclave is possibly considered "Spot zoning" where the zoning amendment is invalid because it is not in accordance with a comprehensive or well-considered plan. East Lands, Inc. v. Floyd County, 244 Ga. 761, 262 S.E.2d 51 (1979). It has been defined as the process of singling out a small parcel of land for a use classification totally different from that of the surrounding area, for the benefit of the owner of such property and to the detriment of other owners. Spot zoning is generally used to refer to rezoning a small parcel to a classification that differs from the general surrounding area. However, just because a small area is zoned differently from the surrounding area does not equate to spot zoning. Spot zoning has been found in relatively few cases. The general test for spot zoning is whether the zoning is arbitrary or whether it is done in accordance with the comprehensive plan. The analysis depends heavily on the facts of the particular case.Spot zoning has not been mentioned in a decision of the Georgia Supreme Court since 1987 and has not been seriously discussed since 1981. See Bobo v. Cherokee County, Ga., 248 Ga. 554, 285 S.E.2d 177 (1981). In Bobo, the Supreme Court found that the decision to deny the rezoning of property from residential to commercial amounted to the denial of due process, and held that, despite the fact that it would inject a commercial use into a primarily residential area, it did not constitute spot zoning, because there was little evidence of harm to other owners and substantial evidence of harm to Bobo. Thus, a radically inconsistent use is attacked under the framework of an insubstantial relation to the public health, safety, welfare and morality."
https://landmatters.wordpress.com/peter-olson-articles-at-land-matters/neighbors-challenging-zoning-and-land-use-decisions/
Prior to the Self Storage Public Meeting yesterday; The City of Winter Springs provided a pre-annex agreement to the landowner which would open up the uses to Town Center Development zoning.
Currently, other uses that could be implemented with the current county zoning could include paint and/or auto body shop, warehouse, industrial uses….
New uses could include Town Center District zoning if annexed into the city where city utilities will be provided…
The landowner was given several incentives such as Discounted to Waived Fees if they decide to annex into the city of Winter Springs.
Pre-Annexation Agreement
Interlocal Agreement